The Hoover Soccer Club would like to thank all staff and club members who helped make the 1st Annual HooverPaloosa a resounding success!  Click below to read our press release from the event!
HooverPaloosa is an event created to help further the initiatives of the Hoover Soccer Club and to benefit players and families in need of financial assistance in order to participate in all Hoover Soccer Club programs.  We are a non-profit organization (Federal Tax ID: 63-0841641), so all proceeds will be invested back into our programs and our Financial Assistance Program.
HooverPaloosa will take place on March 18th, 2017.  There will be an event in the morning at the Riverchase Soccer Complex for players and their families from 10:00 AM to 1:00 PM which will include games, food, music, a fun run and more.  Our evening event will held at GodSpeed (110 Little Valley Court, Hoover, AL. 35244) in Hoover and be for adults only.  It will take place between 6:30 PM and 10:30 PM.   During this time, we will hold our silent auction accompanied by music, food, drinks and great companionship with all Hoover Soccer Club board, staff and members.
RSVP Today!
We are committed to making this event a success for HSC.  Please help us plan by submitting your RSVP today!
CLICK HERE TO RSVP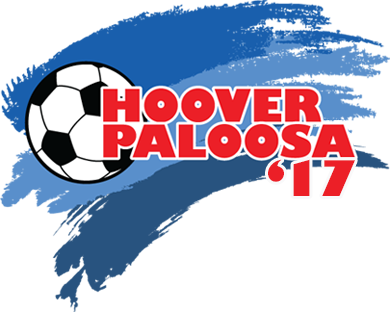 HooverPaloosa Quick Facts
What: HooverPaloosa
When: March 18th, 2017; Morning kids event – 10:00 AM to 1:00 PM; Evening adult event – 6:30 PM to 10:30 PM
Where: Riverchase Soccer Complex (Morning) and GodSpeed – 110 Little Valley Court, Hoover, AL. 35244 (Evening)
Who: All Hoover Soccer Club competitive and recreational members and supporters
Attire: Morning – Fun, casual clothing; Evening – Casual to business casual
Tickets: Tickets for the event will be sold at the door and will be $20 for singles and $30 for couples.  This cost will include entrance to the event and silent auction, food and music.  We are working to have adult beverages provided as well, and will update the site as soon as we know!
Silent Auction: Each competitive and recreational team is strongly encouraged provide an item/items for auction worth $150 or more.  Hoover Soccer Club is also working with businesses around the Hoover area to bring in quite a few additional items for auction.
Event Schedule:
KIDS EVENT: (All HSC teams strongly encouraged to attend)
10:00 AM to 1:00 PM
Music (DJ)
Food Trucks
Bouncy House
Dunk Booth
Fun Run
ADULTS ONLY EVENT:
6:30pm – Doors Open/ Silent Auction Begins
9:00pm – Silent Auction Ends
9:15pm – Checkout
10:30pm – HooverPaloosa Ends
HSC Team Participation
The Hoover Soccer Club is strongly encouraging every team to contribute and participate the silect auction event.  Each team will be responsible for funding a "basket" or  individual item with a target value ofs $150 or more.  Each team's basket or item will be bid on the night of the event with the basket or item going home with the highest bidder.
Please work with the parents on your team to put together a unique basket of items that someone would want to purchase.  Baskets/items should be turned in to the Hoover Soccer Club office by Wednesday, March 15.
Silent Auction Basket/Item Examples:
Spa package
Tickets to sporting events (Alabama or Auburn tickets, etc.)
Yeti cooler
Autographed memorabilia (jersey, ball, etc.)
Dinner and movies package
D1 or OrangeTherapy fitness gift certificates
Date night package
Wine lovers package
Coffee lovers package
Soccer.com gift certificate
Mother's package
Dad's package
Birmingham Breakout trip
Fishing trip
Vacation/rental stay